Midget Tournament
Friday, November 23, 2018 to Sunday, November 25, 2018
---
Congratulations to
Yellowknife Wolfpack
Winners of the 2018 Midget Tournament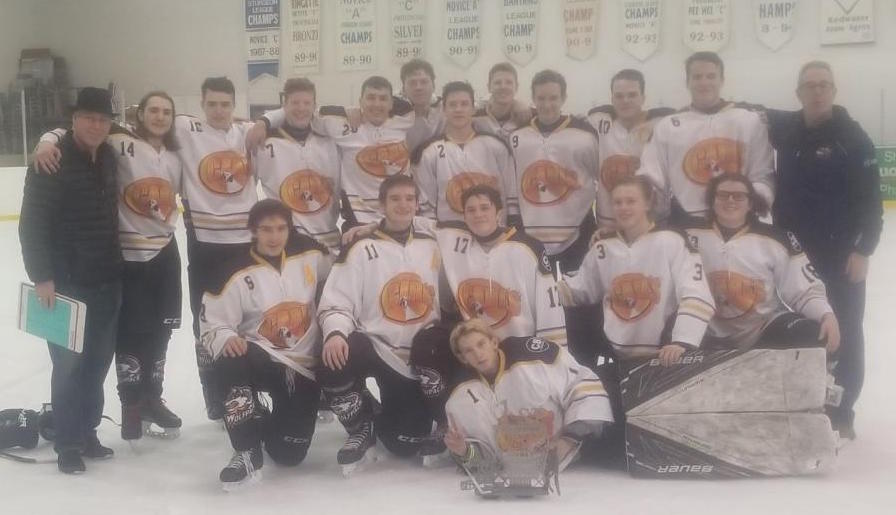 ---
Welcome all players, coaches, parents, relatives, and friends to the 2018 Redwater Rush Midget Hockey Tournament
The Redwater Rush Midget Hockey Team would like to welcome you to our community. We are proud to host this year's Annual Redwater Rush Midget Tournament with teams participating from Peace River, Grande Prairie, Edmonton, Fort Saskatchewan, and Yellowknife.
Our goal of this tournament is to provide a safe and positive environment for the players while enhancing skill development and creating a fun, rewarding experience for all players.
Best of luck to all the teams and have a great weekend. Enjoy yourself, compete hard, and most of all have FUN!
Thank You to our Sponsors
The Redwater Rush Midget Hockey Team would like to thank the businesses and individuals for their contributions, cooperation, and support of our tournament. Your generosity is greatly appreciated by the players and helps make this tournament a success.
| | | | |
| --- | --- | --- | --- |
| ARC Resources Ltd. | Home Hardware | MBM Photography | Nutrien |
| MBM Mechanical | Premak Powerline Projects Inc. | Pyramid Corporation | R & M Liquor |
| Ring Ding Welding Ltd | Rocky Mountain Equipment | Time Out Sports Lounge | |
And a special thank you to the families of the team who helped with all the organization and with a few special touches:
The organizing committee for all the hard work in making this event successful;

Teri of DTail Metal Art for designing and creating our coveted trophy;

Zina for creating the amazing goodie baskets for all the dressing rooms; and

The Young family for providing the Gatorade for all the dressing rooms.
Tournament Rules and Regulations
This tournament is sanctioned by the Hockey Alberta - Alberta Amateur Hockey Association. All Hockey Alberta Rules and Regulations apply.
All managers must arrive at least 30 minutes prior to their game and verify game sheet. Please ensure all bench staff sign the game sheet as well.
Team rosters will be limited to 19 players, including goalies.
Teams should bring two (2) sets of sweaters. The "Home Team" will be designated on the tournament game schedule. In case of conflicting sweater colours, the designated "Home Team" will change.
Teams are guaranteed four (4) games; 3 games in a Round Robin format with 4thgame in a final.
Teams must play all their scheduled tournament games.
All teams must be prepared to take to the ice fifteen (15) minutes prior to their scheduled time.
All games will consist of 3 - 20 minute stop-time periods.
Flooding will be at the end of every two (2) periods of hockey in the tournament. The playoff final games on Sunday will be played over 2:15 hours ice slot and will consist of 3 20 minute stop time periods with a 5 minute warm up and 15-minute break for floods every period.
The tournament will be round robin format with an "A" Final, "B" Final, and "C" Final; the 2 teams with highest points will play in the 'A' Final; the 3rdand 4thplace teams will play a 'B' Final, and the 5thand 6thplace teams will play in a "C" final.
During the round robin, teams will play 3 other teams. All round robin games will end at the end of regular play, even if it is a tie game.
Points: 2 points for a win, 1 point for a tie, and 0 points for a loss.
If teams are tied then the following tie breaking format will be used to determine which team will advance:
If a two-way tie, then the winner of the game between the two teams.
If still tied, or if the 2 teams did not meet in the round robin, then the team with the lowest total penalty minutes; any game misconduct penalties will count towards the total.
If still tied then the team with the highest resultant from

goals for

divided by

goals against

.
If still tied, then rock, paper, scissors best of 3.
GAME FINALS: If tied after regulation play there will be a five-minute sudden death overtime period where teams will play 3 on 3 plus their goaltender. Penalized players will serve their time and the team with the power play will add a 4th If the penalty ends during game play each team will play with 4 on 4 until a stoppage of play, where play will resume with 3 on 3 play. If still tied, a shoot-out will be utilized to determine the winner (see shoot-out rule).
The winner of the 'A" Final game will receive a trophy. Each team will pick their own MVP for each game except the 3 game finals which you will pick the other team. MVP awards will be available in the timebox.
One Time-Out is allowed per team per game for all games played.
Any fighting penalties will result in immediate suspension, of the player(s) involved, from the tournament.
Games will be played in Pembina Place arena.
ZERO TOLERANCE RULE: Abusive behavior ON or OFF the ice (physical, verbal, etc.) conducted by any player, team official, on ice official, game official, or fan will not be tolerated. Such actions will result in the guilty party or parties being expelled from the Tournament.
Certified referees will be provided by RMHA.
All decisions of the RMHA Tournament Coordinator are final.
SHOOT-OUT RULE:
Shoot-outs only apply in games: "A" Final, "B" Final, "C" Final.
Each coach will appoint three players as shooters.
Shooters will alternate with the Visitor team beginning first.
If one team scores on its first 2 shots and the other team does not score any goals on its first 2 shots, then the third shooter is not necessary.
If still tied after 3 shooters, the Coaches will appoint another shooter,

then it becomes a sudden-victory shoot-out

. The first team to score when the other team does not shall be the winner.
No shooter may repeat until all skaters have taken their turn.
Shooters must maintain the order of the first round if a second round is necessary.